Karen McKale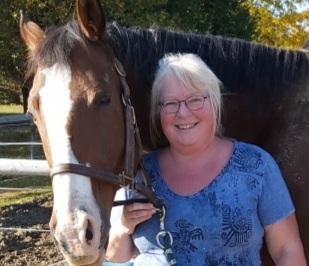 Hello, my name is Karen, I have been crafting all my life.  As a child I made things out of whatever I could find, whether it was beach clay, corn husks, etc.  I picked up my first paint brush at the ripe old age of 29.  I spent years watching my talented sister in law painting and thought... I could do that.  
Starting slowly, I joined a crew from work painting for A Chair Affair (Community Living London) (we won first place that year and I won first place separately a number of years later.)  I wanted more so I joined a guild to learn proper technique.  I was hooked.  That led me to being co-ordinator for the City of London's Kids Do Art program in the East End.  Children were given weekly projects of many different mediums to encourage artistic outlets. 
I was introduced to Powertex at my first Artwaves convention in Mississauga over 10 years ago.  I was hooked.  I immediately got in touch with Powertex Canada and was guided through the nuances of the Powertex product line and began teaching this wonderful medium at my London Guild.   One year later I was assisting teaching Powertex at the Mississauga convention and the year following was running the booth, teaching etc. on my own.   I have also had a booth and taught Powertex at the London Artwaves convention when it moved here.  
I have been teaching Powertex techniques for over 10 years and am excited to bring this incredible multi-functional medium to For the Love of Art.  
Hope to see you in the classroom.