The Healing Powers of Art Journaling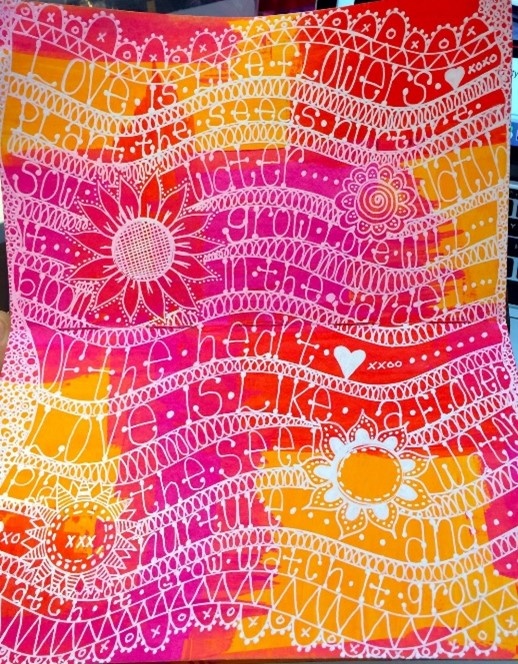 The Healing Powers of Art Journaling
Artists throughout history have kept notebooks in which they recorded their ideas, practiced skills, sketched, painted and explored.  Today, I keep something similar.  I keep what is called an art journal.  This personal journal is a combination of images, words and different mediums.  I am able to explore my own creativity, do some self-reflecting and express any emotions, good or bad within a safe and personal space.
I can play, practice a skill such as "ghosting", I can work out frustration or say the things I need to say but never could aloud.
Personally, I have found a sense of healing through my art journaling.  I have quieted the critic in my head, rediscovered the joy of "play" and found my voice.
Don't get me wrong art journaling is not just about heavy feelings and deep self-discovery.  The benefits that come from just playing and enjoying creating are immeasurable.  I like to grab some bright colours, the brightest I can find and just start experimenting with different effects, shading and layering.  I usually end up with a crazy mess BUT I LOVE IT!!  This makes me happy.  I can open up my journals for others to see or I can keep them private.  There are no rules.  I can do whatever I please within the pages of my journal, whenever I please and that is a truly healing and joyful experience for me.
I urge everyone, male, female, young and old to give this activity a try.  Find out firsthand what it can do for you.  Have fun.  Shed some tears.  Get messy.  Get creative.  Pour your heart out and do it again the next day.  You may be surprised how quickly this can become part of your regular routine and how wonderfully it can change your life!!
We are offering the following upcoming classes:
October 15th -  Art Journaling for Kids                          6:30 to 7:30pm
Please register at www.ftla.ca